Tickets

Ticketshop
Tickets can now be ordered via the online shop
The following tickets are offered in the online shop:
Ticket Monday: 4,00 €
Ticket Tuesday-Friday: 7,00 €
Ticket Saturday-Sunday: 9,50 €
Night owls Sunday-Thursday from 8pm: 3.00 €
Night owls Friday & Saturday from 9pm: 5,00 €
Children's ticket: 2,00 €
Regardless of the number of the tickets, there is a charge of 0,60 € per ordered ticket.
Entrance Fee
Adults:
Monday 4,00 €
Tuesday-Friday 7,00 €
Saturday-Sunday 9,50 €
Special Prices
Rates for Night-Owls:
Sunday-Thursday from 8.00 pm 3,00 €
Friday-Saturday from 9.00 pm 4,00 €
Children: (Age 6-16) 2,00 €
Discounts for handicapped persons: 2,00 €
*disabled persons requiring constant assistance: the accompanying person can receive free entrance into the Romantic Christmas Market upon displaying proof of "Identification B".
Groups:
Groups will receive one free entrance ticket for every 10 persons (9+1)
Every Sunday: Girls' night
Young girls or young at heart girls will receive free entrance starting at 8.00 pm
Every Tuesday: Seniors', Helpers' and Protectors' Day
For Seniors from 65 years old and up (with valid identification) as well as for firefighters, rescue services, policemen, aid organizations and armed forces with valid service identity card the entrance fee is 3,00 €
Birthday boys and girls:
Free entrance for all those who celebrate their birthday on the date of their visit (with valid identification).
Regensburg "ticket of tens" 50,00 € (from October to 18 November 2019 orderable)
Only a person with main residence in Regensburg can buy the "ticket of tens". Against validation of a corresponding number of credit fields, this card guarantees the ten-time access - even of different people - no matter what day!
The Regensburg "ticket of tens" can be ordered via e-mail to info@vs-regensburg.de.
Ticket purchase at our cash desk on site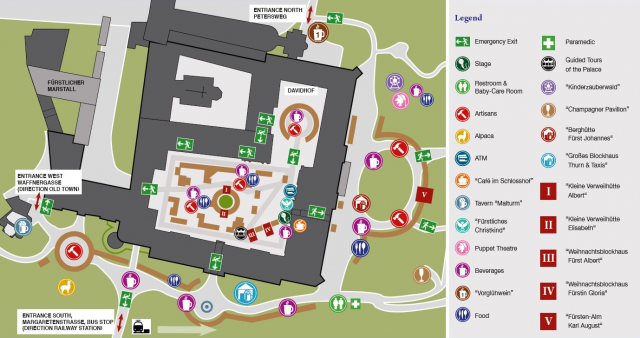 Visitors have the opportunity to buy tickets for the "Romantic Christmas Market" at either one of our three entrances.
Please note: only cash payment - no card payment will be possible
Opening hours of our cash registers
Cash desk Peterweg:
staffed throughout the opening hours
Cash desk Margaretenstraße:
staffed throughout the opening hours
Cash desk Waffnergasse:
Monday - Friday from 05.00 pm
Saturday - Sunday from 12.00 - 09.00 pm